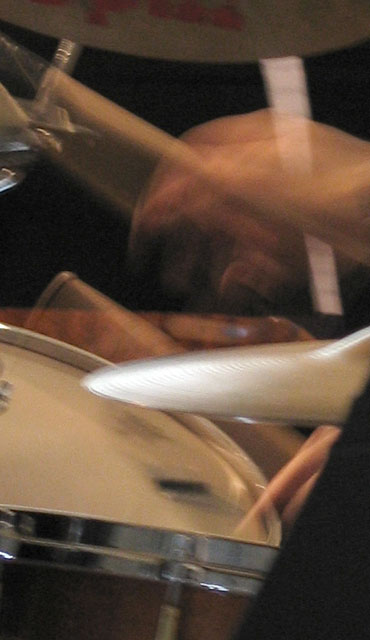 RECORDINGS:

All-star Afro Latin Jazz Fusion Quintet, Octet, & Big-band Recordings on RVCD CDs and Digital Downloads.
Roland's music can be found on services like Apple Music and Spotify.

THE VISITOR

Personnel:
Tim Albright, Ignacio Berroa
Isrea Butler, Larry Farrell
Joel Frahm, James de la Garza
James Genus, Aaron Heick
Jim Hershman, Tony Kadleck
Ben Kono, Pete McCann
Alex Norris, Keith O'Quinn
Jon Owens, Luis Perdomo
Christos Rafaelides, Sean Ritenauer
Roger Rosenberg, Jack Schatz
Samuel Torres, Dan Willis

(Total Time: 72:34)
****½ "The star of The Visitor is Vazquez's luminous, precise writing, with an intriguing rhythm section of first-class NYC-based players that effectively functions as an orchestra within the orchestra ..."
-- Downbeat (read review here)
"With The Visitor, drummer Roland Vazquez joins the ranks of Maria Schneider and Darcy James Argue as a visionary composer of contemporary big-band jazz."
-- Jazz Times (read review here)
"The charts merge rhythmic intensity, contrasting layers of harmonically dense brass and reed voicings, and impassioned soloing into a majestic whole."
--Jazziz (read review here)

Includes:
Read more about The Visitor here.

QUINTET LIVE

Featuring:
Walt Weiskopf
Mark Soskin
Anthony Jackson
Ricardo Candelaria

(Total Time: 70:11)
"...excellent music and musicianship ... a powerhouse band of veterans ... spirited improvisation and interplay. The best of Vazquez so far ..."
(Michael G. Nastos/ All Music Guide)
"Vazquez himself was a marvel of constantly shifting patterns that flowed smoothly from one piece of his kit to another ... Latin jazz rarely sounds so cool."
(Roger Levesque/ Edmonton Journal)
Includes:

FURTHER DANCE

Featuring:
Ricardo Candelaria
Anthony Jackson
Mark Soskin
Walt Weiskopf

(Total Time: 76:59)
"... a brilliant document."
(B. Milkowski/Audio)
"Vazquez continues to re-define how we experience music ..."
(H. Grey/JazzTimes)
"... one of the great overlooked CD's of the year."
(B. Blumenthal/Boston Globe, July '97)
"An outstanding CD."
(R. Rico/Latin Beat, April '97)
Includes:

NO SEPARATE LOVE

Featuring:
Luis Conte
Walt Fowler
Anthony Jackson
Frankie Malabé
Mark Soskin
Steve Tavaglione
Walt Weiskopf
Albert Wing
David Witham

(Total Time: 57:02)
"****, 'No Separate Love' doesn't lack for adventure or different, interesting textures... With an even split among New York and L.A. session players... Vazquez and company prove to be cohesive and heat-seeking. They cook it up on nearly every tune, whether the romp is Latin-based, street funk, or jazz-flavored."
(R. Tolleson/Downbeat, January '92)
Includes:

TIDES OF TIME

Featuring:
Dean Brown
Luis Conte
Ronnie Cuber
Anthony Jackson
Dave LaLama
Brian Lynch
Dick Oatts
Mike Stern
Dan Wilensky

(Total Time: 42:54)
"****, Vazquez remains true to his musical vision on 'The Tides of Time,' a Latin-flavored offering with strong horn charts, percolating percussion work, irresistible grooves, and dynamic solos by a string of special guests... Vazquez' most ambitious piece is a cinematic suite which shifts moods and colors, going from big band explosion to a scaled-down quartet."
(B. Milkowski/Downbeat, October '89)
Includes:

FEEL YOUR DREAM

Featuring:
Alex Acuna, Manolo Badrena
Jim Coile, Nathan East
Gary Herbig, Flim Johnson
Abe Laboriel, Bennie Maupin
Ralph Rickert, Steve Tavaglione
Phil Upchurch, Larry Williams

(Total Time: 40:30)
"The pioneering drummer-composer... broke a great deal of ground for the soulful, Latin rhythmic threads of contemporary jazz, as evidenced in the brisk horns leaping to life on ('Feel Your Dream')..."
(H. Grey/JazzTimes, Jan/Feb '96)
Includes:
(recorded in 1977-1981)


BEST OF THE L.A. JAZZ ENSEMBLE

Featuring:
Manolo Badrena, Mike Carnahan
Jim Coile, John Darst
Clare Fischer, Abe Laboriel
Bennie Maupin, Ralph Rickert
Patrice Rushen, Chuck Wike
Ken Wild, Larry Williams

(Total Time: 65:56)
"... an essential document, not to mention some of the most exciting, ahead-of-its-time big horn jazz ever recorded, on 'Best of the L.A. Jazz Ensemble.' This 'urban ensemble' formed in the mid-'70s, drew upon the finest musical talents of Southern California to create a unique soundtrack for Los Angeles - a living, forward-moving pulsebeat integrating multi-cultural textures... a must-have for any collection."
(H. Grey/JazzTimes, June '94)
Includes:
(recorded in 1977)