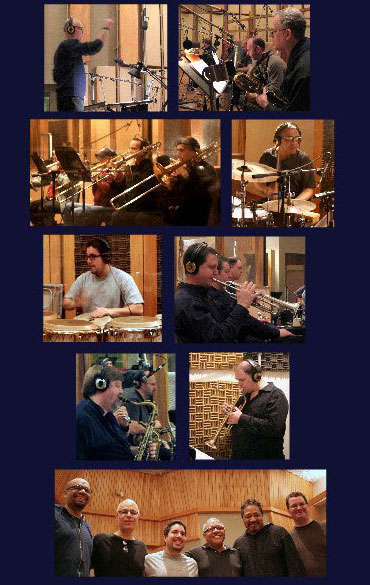 Pictured above:
1] Roland Vazquez
2] (saxes (l->r)) Joel Frahm, Ben Kono, Aaron Heick,
Dan Willis, Roger Rosenberg
3] (trombones l->r) Larry Farrell, Keith O'Quinn,
Tim Albright, Jack Schatz
4] Ignacio Berroa
5] Samuel Torres
6] Jon Owens, James De La Garza, Alex Norris
7] Joel Frahm, Aaron Heick
8] Alex Norris
9] Luis Perdomo, RV, Samuel Torres, Ignacio Berroa,
James Genus, Pete McCann



Here is an Interview on WBGO radio about The Visitor.
Here is an Interview on JazzSession about The Visitor.
Here is an Interview Podcast on WGLT about The Visitor.

For media related inquiries, please contact:
Jason Byrne at Redcatjazz@mac.com.
Pictures for Reproduction:
Ctrl-click (Mac) or Right-click (PC) on links to download file

Roland Vazquez photo, 4"x6" @ 300dpi
photo by Thomas Mikelson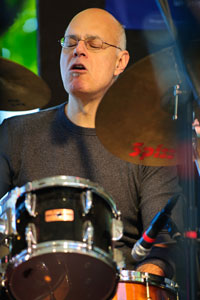 Roland Vazquez performing, 4"x6" @ 300dpi
photo by Rudy Lu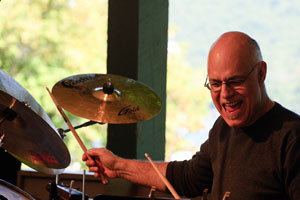 Roland Vazquez performing, 4"x2.5" @ 300dpi
photo by Rudy Lu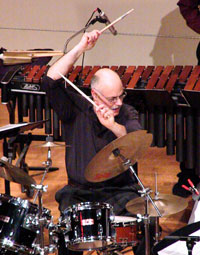 Roland Vazquez performing, 3"x4" @ 300dpi
photo by Mike Tracy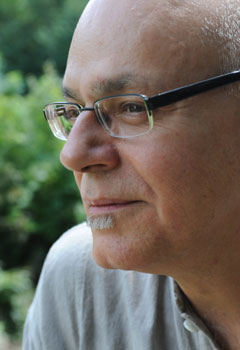 Roland Vazquez photo, 9"x14" @ 300dpi
photo by Thomas Mikelson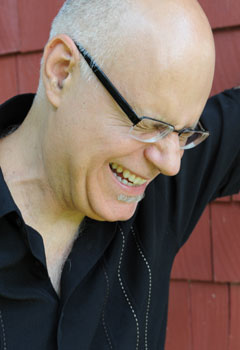 Roland Vazquez photo, 9"x14" @ 300dpi
photo by Thomas Mikelson

Introducing:
ROLAND VAZQUEZ BAND
THE VISITOR
****½ "The star of The Visitor is Vazquez's luminous, precise writing, with an intriguing rhythm section of first-class NYC-based players that effectively functions as an orchestra within the orchestra ..."
-- Ned Sublette, Downbeat
(read review here)
"With The Visitor, drummer Roland Vazquez joins the ranks of Maria Schneider and Darcy James Argue as a visionary composer of contemporary big-band jazz."
-- Michael West, Jazz Times
(read review here)
"The charts merge rhythmic intensity, contrasting layers of harmonically dense brass and reed voicings, and impassioned soloing into a majestic whole."
-- Mark Holston, Jazziz
(read review here)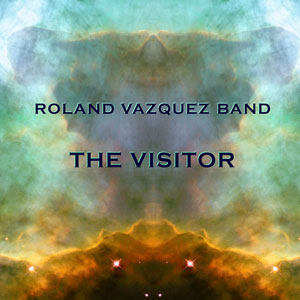 TOTAL TIME: 72:34
Funded in part through a grant from the
Aaron Copland Fund for Music, Inc.
ROLAND VAZQUEZ BAND:
saxes:
Aaron Heick (alto sax, soprano sax, flute)
Ben Kono (alto sax, flute, clarinet)
Joel Frahm (tenor sax, soprano sax)
Dan Willis (tenor sax, clarinet)
Roger Rosenberg (baritone & soprano saxes, bass clarinet)
trumpets (& fluglehorns):
Jon Owens (plays lead on 2, 4, 5, & 7)
Tony Kadleck (lead on 1, 3, & 6)
James de la Garza
Alex Norris
trombones:
Keith O'Quinn
Larry Farrell
Tim Albright (1-5)
Isrea Butler (6 & 7)
Jack Schatz (bass trombone)
Luis Perdomo (piano)
Pete McCann (guitar)
James Genus (electric bass)
Ignacio Berroa (drums)
Samuel Torres (congas & percussion)
Jim Hershman (guitar on 4)
Christos Rafaelides (vibes on 1, 2, & 3)
Sean Ritenauer (vibes on 4, 5, & 7)
Roland Vazquez (composer/conductor)
The Roland Vazquez (Big) Band originally appeared at clubs in NYC and festivals starting in 1991. Based around my quintet at that time (Walt Weiskopf, tenor sax; Mark Soskin, piano; Anthony Jackson, contrabass guitar; Frank Malabe, congas); the horn sections grew from those who had played on "Tides of Time" (Ted Nash, Brian Lynch, Keith O'Quinn, Jack Schatz) - and players I met while teaching at Manhattan School of Music (Tony Kadleck, Joel Frahm, Alex Norris, Dave LaLama). Other players featured in those early years include: Ricardo Candelaria, Mike Davis, Andy Gravish, Stefon Harris, Joe Locke, Dave Mann, Ben Monder, Chris Potter, Tim Ries, Emedin Rivera, Scott Wendholt, just to name a few.
In 2009, I received a Recording Grant from the Aaron Copland Fund towards support of recording these scores. "The Visitor," "Urantia," "Thru a Window," and "Guarabe" were essentially developed during our performances in the '90s; with "Whirlpool," "Sevilla," and "The Path of Change" evolving more recently. While most of these titles have been previously released as quintet or nonet versions, I feel the 19-piece Roland Vazquez Band delivers the most fully-realized performances of these compositions to date. It has been a real gift for me to work with each of these outstanding musicians while preparing, performing, and recording this music. Their individuality and spirit clearly resonate in these tracks - and more than succeed in lifting this music "off the page."
NOTES ON THE COMPOSITIONS:
1) "URANTIA" is a mythical name for the Earth. Inspired during a visit to Greece, this piece is an imaginary journey through time from "first light" into "chaos & discovery"; leading to a final chorale & ensemble vamp implying the future. This work is dedicated in memory of my dear friends & mentors Don & Shirley Walker.
2) "THRU A WINDOW" is suggestive of our movement towards a "gateway" of new experience ... an implication of the angst and uncertainty felt when challenging old expectations & reaching thru uncertainty towards progress.
3) "THE VISITOR" evolved out of an actual waking-dream experience of music suggesting the arrival of a "teacher," who in this case was bringing a new message or principle - leading to new awareness, and eventual catharsis.
4) "WHIRLPOOL" is a gospel "funk" driven piece, which seems to be constantly falling forward into new phrases of increasing tension. The "Whirlpool" continues to unwind through an increasingly furious "coda" section (including a trombone referral to "Darn That Dream").
5) "SEVILLA" is a reflection on the time in medieval Spain (aka al-Andalus or Sepharad) when Christian, Jew, and Muslim co-existed in relative peace- and when 10th century scholars translated Aristotle into Arabic, while deliberating the Greek Wisdom Schools. Toledo, Granada, and Sevilla were towns where the three faiths co-existed while sharing cultural, scientific, and artistic information. Considering the intolerance so prevalent today; the curiosity & cross-cultural symbiosis of that reality remains an inspiration.
6) "GUARABE'" (Clare Fischer/BMI) is a work originally recorded by Clare's Grammy-winning septet "Salsa Picante." I consider my time as a drummer in that band ('79-81) as a high point in my experience as a sideman. Clare's music continues to inspire me with its originality, structural integrity, and sheer beauty.
7) "THE PATH OF CHANGE" is an episodic "Latin rhythmic chamber jazz" work which originally began evolving in 1981 (before I moved from LA to NYC). An earlier quintet version was released on "Further Dance" (1997). This orchestration was completed in December 2009.
-Roland Vazquez (April 2010)
RECORDING CREDITS:
Produced by Roland Vazquez with Todd Whitelock, Susan Botti,
& Lawson White
Executive Producer: Roland Vazquez
Recorded by Todd Whitelock (Whitelock Audio) at
Clinton Studios, Studio A (Feb.28, March 1 & 2, 2010)
Assistant engineer: Michael Vecchio,
Second assistant: Dave Garand,
Technical engineer: Roger Deller
Mastered by Allan Tucker, TuckerSound at Foothill Digital
(tuckersound.com)
Cover art & package design: Philip Kelly Denslow,
cover adapted from NASA Hubble photograph
Studio photos by Mike Vecchio; RV portrait by Thomas Mikelson
Publicity: Jason Byrne (redcatjazz@mac.com)
All compositions (except "Guarabé" © Clare Fischer, BMI) are
© Roland Vazquez/Roland Music (ASCAP)
Special Thanks: Bryan Smith & Ed Rak (Clinton Studios); Jim Flynn (Jim Flynn Rentals); Rick Van Matre; Roger Braun; Matt James; MIke Lipsey; Rusty Burge; Yamaha Drums; Bosphorus Cymbals
© Roland Vazquez/Roland Music/RVCD, 2010