Introducing the music of composer/drummer/producer/clinician Roland Vazquez. Here are site pages representing 30+ years of his independent recordings (CDs with audio samples & review quotes) from the "funky Salsa Bebop" of Best of the LA Jazz Ensemble (1977); through the Afro Latin chamber Jazz of Further Dance and Quintet Live (2007); and including his recent Afro Latin Big Band project: The Visitor (2010). Also available here are scores & parts (with audio and score excerpts); residency & clinic options with reviews; and a frequently updated calendar of recent and upcoming events.
Roland's music can be found on services like Apple Music and Spotify.
You can contact us at
romu@rolandvazquez.com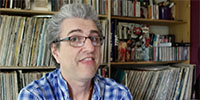 Andy Edwards on YouTube
Brief Review of "Urban Ensemble" LP
10 Forgotten Jazz Rock Classics

Roland Vazquez / AJO Nonet
Live at The Falcon
September 29, 2022
Three-Title Montage

Roland Vazquez "Jazz Generations"
on Radio Free Rhinecliff
Episode 3 "And Sometimes Angels" 1960s Civil Rights Era jazz
Episode 2 "Afro to Jazz / Jazz To Afro: Eternal Diaspora"
Episode 1 "Music is Also Memory" influences of my early "ears"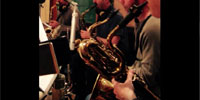 RV Big Band Slide Shows
"Guarabé" (Clare Fischer)
"Whirlpool"
"The Visitor"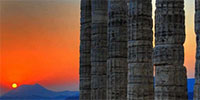 RV Quintet Slide Shows
Videos Playlist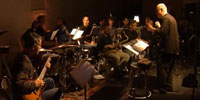 Roland Vazquez Band Live at
Shapeshifter Lab, Brooklyn NY,
April 2013
Whirlpool
Créencias

Afro Bop Alliance "Revelation"
(Sept 2016/ OA2 Records):
"...the balance of the program is devoted to the work of Roland Vazquez, whose involved and boundlessly imaginative scores establish him as one of the major jazz composers of our time. Vazquez' accomplish-ments (as drummer and composer) stretch back to the mid-1970's, including a pivotal stint with his mentor Clare Fischer. A seasoned educator as well, Vazquez has amassed a varied output including works for big bands, orchestra, chamber groups, percussion ensembles and more. His 2010 release "The Visitor" earned wide acclaim and brought much deserved attention to this great and underrated voice in large-ensemble jazz."
David R. Adler - New York, May 2016)
"No Rest For The Bones Of The Dead" Excerpt: Audio & Score
"Creencias" Excerpt: Audio & Score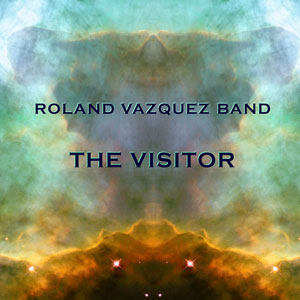 Roland Vazquez Band "The Visitor" (RVD7007)

Includes the composer's works Urantia, Whirlpool, Thru a Window, The Path of Change, Sevilla, & The Visitor - as well as Guarabé (by his inspirational mentor Clare Fischer).
(read more here)